News & Articles
Latest EA Studios Blog Posts
Where Can You See Norval Morrisseau's Art In Canada?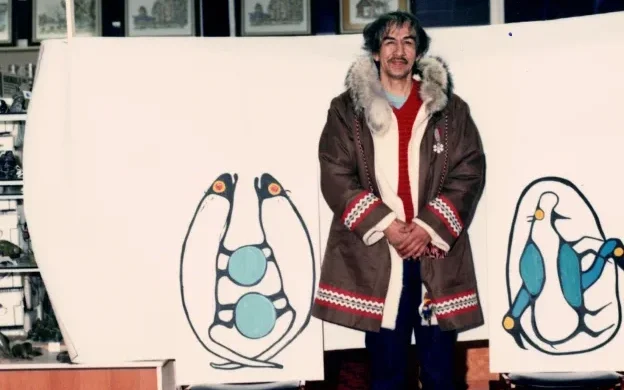 Who Is Norval Morrisseau?
Norval Morrisseau (sometimes referred to as "Copper Thunderbird," a name he received during a healing ceremony in his late teens) was born in Sand Point Reserve, near Beardmore, Ontario, in 1932. Once known as "Sand Point First Nation," this community along Lake Nipigon's southeast shores has suffered a turbulent history over the last 100 years.
Floods caused by damming in the Nipigon River (c. the 1920s) were its first tragedy. The government interference (c. the 1940s & '50s) to create a provincial park eventually forced the Anishinaabe from their homes, homes that were later burned by park rangers. As a result, what used to be a thriving community of working families was diminished to almost nothing.
For the remainder of the 20th century, the land operated as a park. However, it only reclaimed its status as a First Nation in 2010.
Born in the midst of this chaos, a time when Indigenous peoples were being stripped of their cultures and traditions, was a boy. That boy would go on to become Canada's renowned contemporary Indigenous artist… that boy was Norval Morisseau.
What Makes His Work Significant?
Sometimes referred to as the "Picasso of the North," Morrisseau's inert brilliance emerged in the form of self-taught artistry that eventually became its own category, Woodlands style. His artwork drew heavily from the culture, history and traditions of his native Ojibwe people. Echos of dreams, visions and shamanistic quests also have obvious influence.
He was exposed to modern greats like Henri Matisse, Salvador Dali and Pablo Picasso by Selwyn Dewdney, one of the first Canadians to make abstract paintings. You can see today the impressions such notable figures had on Morriseau's place in Canadian art history.
Morrisseau's paintings arrived at a segregated time in Canadian history. Indigenous peoples were marginalized throughout the country, and Indigenous artworks were seen more as remnants of antiquity than something that could be considered "modern."
The 1960s were a time of great empowerment for oppressed populations across North America, and certainly First Nations people in Canada. Morrisseau's work broadened society's views towards acceptance of Indigenous artists and helped build the framework for today's ever-evolving integration of First Nations culture into Canadian society.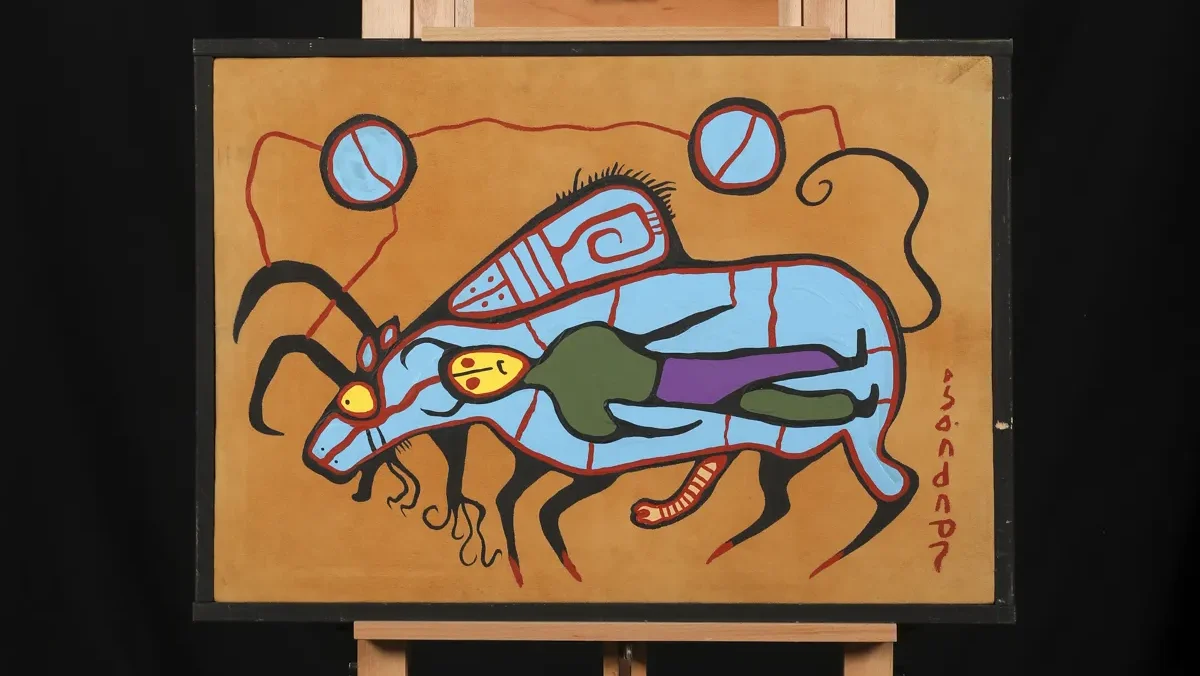 Where Can You See Norval Morrisseau's Artwork?
Many Morrisseau works are held privately in personal collections or displayed publicly in institutions across the country. Here is a list of galleries, museums, and organizations that are the owners of original Norval Morrisseau artworks:
While the galleries or museums mentioned above may have one or many Morrisseau's, it cannot be guaranteed that they currently have them on display.
Notable Works
Some of the key works by Norval Morrisseau are listed here, followed by the date produced and the institution they reside in:
Untitled (Thunderbird Transformation), c. 1958-1960, Canadian Museum of History
Self-Portrait Devoured By Demons, 1964, Art Gallery of Ontario
Artist in Union with Mother Earth, 1972, National Gallery of Canada
Water Spirit, 1972, Canadian Museum of History
Indian Jesus Christ, 1974, Aboriginal Affairs and Northern Development Canada
The Gift, 1975, Thunder Bay Art Gallery
Man Changing Into Thunderbird, 1977, Art Gallery of Ontario
The Storyteller: The Artist and His Grandfather, 1978, Aboriginal Affairs and Northern Development Canada
Androgyny, 1983, Aboriginal Affairs and Northern Development Canada
Observations of the Astral World, c. 1994, National Gallery of Canada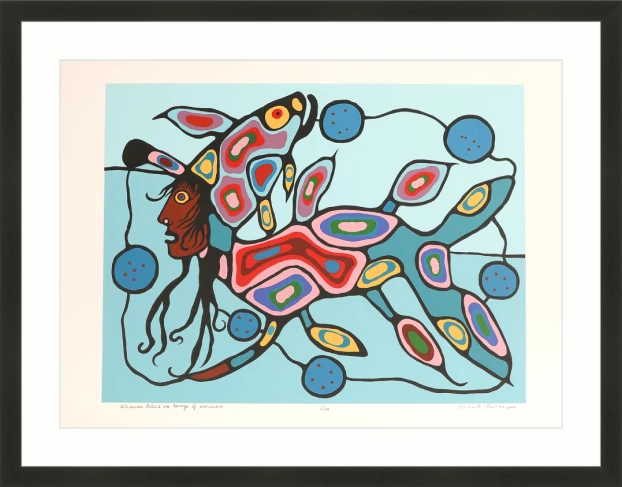 Where Can You Buy Norval Morrisseau Paintings?
EA Studios is a family-owned art gallery founded in 1973 in beautiful Jasper, Alberta. EA Studios operated at the Maligne Canyon Teahouse between 1978 and 2018. During this time, we displayed several pieces from our collection and had the opportunity to work with and support many talented artists.
Throughout the 1980's we were the proud sponsor of Norval Morrisseau. He occasionally lived with us at the Tea House throughout that period and worked extensively on several beautiful pieces in our collection today.
We are home to one of the largest collections of authentic Norval Morrisseau artworks. The art in our studio was painted during Morrisseau's sponsorship with us and is now available for viewing and purchase at our new studio in Calgary, Alberta. Visit our online store or book a viewing with us today to find out what we can do for you.