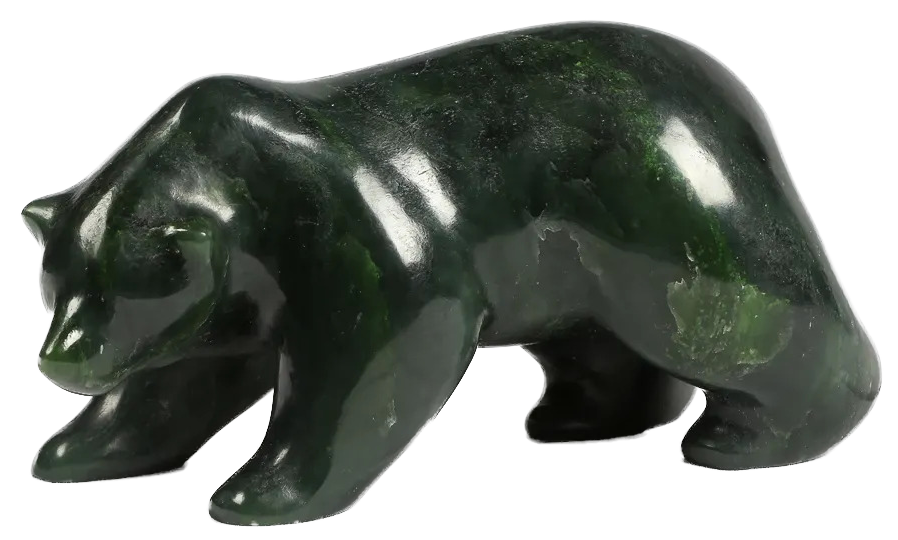 Life & History Of
David Wong
A World's Best Sculptor
There are few sculptors in this world who are capable of capturing such realistic movement, depth and emotion in their jade carvings. David Wong was one of those few. Regarded by National Geographic as being one of the world's best contemporary jade sculptors, David Wong's work rapidly gained popularity in the late 20th century. Besides jade, David Wong also worked with obsidian, rhodonite, lapis lazuli, quartz and ivory from ancient mammoth tusks.
Traditional Carving Techniques
Born in mainland China in 1935, David Wong was close with his brother who practiced traditional Chinese carving techniques, exclusively with ivory. David Wong learned these techniques while apprenticing over five years under the tutelage of his big brother. He later worked and paid his way through law school by teaching his craft and selling his carvings. Interestingly, Wong never actually practiced law, instead choosing to throw himself completely into his art with no regrets.
The Switch To Jade
Wong expanded his scope of materials after running into difficulties obtaining ivory ethically, deciding to try his luck carving jade instead, one of the most common minerals used for jewellery and ornaments in China. Although popular in Asia, Wong soon discovered that the majority of jade was imported from British Columbia, Canada, which later became part of the reason for Wong's eventual immigration to Vancouver. The world is very lucky for that transition, David Wong found his calling carving incredibly compelling jade and natural stone packed with a detail and emotion that few sculptors can achieve.
Sponsorship Opportunity
David Wong & EA Studios
EA Studios is proud to have sponsored David Wong from 1971 until his untimely death in 1998, while he was sculpting out of his workshop in British Columbia. As a result, we have one the largest and most exclusive collections of David Wong sculptures in the world, including several unfinished pieces that are not for sale. Each sculpture was purchased from Wong during his residency at our studio and each piece is signed with his name and serial number to ensure authenticity.
When you buy a David Wong sculpture from our studio, you can trust you are getting an authentic carving to add to your collection. We provide authentication papers for our art pieces to add peace of mind that you're purchasing original Canadian art pieces.
View our online gallery to see our collection of gorgeous rhodonite, obsidian, jade art pieces for sale. Lose yourself in the great green depths and beautiful creamy swirls in each David Wong sculpture, knowing that you're getting a one-of-a-kind piece to add to your art collection.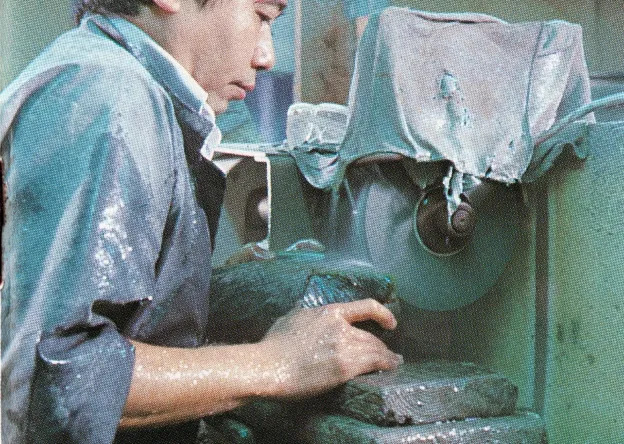 View Our David Wong Art
Featured Sculptures
Check out our exclusive online collection of gorgeous jade, ivory, obsidian, rhodonite, lapis lazuli and marble carvings from David Wong. Each piece is sure to bring the bliss and peaceful feelings of nature to any living space or office setting.
David Wong Art For Sale
David Wong Collection
Natural Stone Animal Carvings
David Wong mastered the craft and techniques of carving through a variety of materials, from his origins with ivory and jade, to rhodonite, quartz, lapis lazuli and even obsidian. With a focus on the wildlife of Northern Canada, Wong would use films, books and his own camera to capture and understand the movements of bears, otters, seals, eagles, geese and other animals. Every sculpture was treated with the same meticulous care and artistry, from a jade eagle just a few centimeters high to a massive lounging polar bear.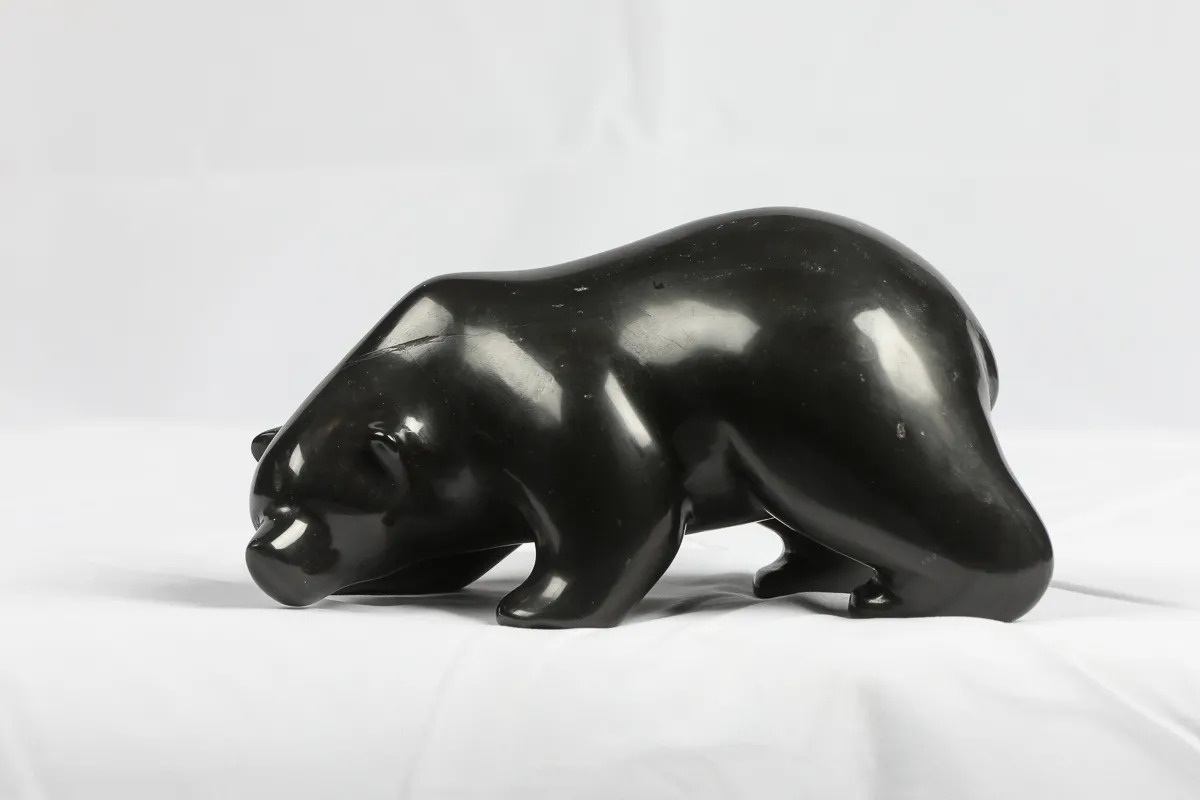 The term jade can actually refer to two types of silicate minerals, nephrite and jadeite. Although these minerals are typically green, they can actually come in a variety of colours, including white, yellow, red, black and gray.
Carving jade is a delicate and precise process that requires a skilled hand, specialized tools and a sprinkle of patience. After finding a piece of jade that's free of cracks, blemishes or other imperfections, Wong and other sculptors would use a saw or other high power cutting tool to create a rough shape of their desired sculpture. Since jade is such a hard mineral, it cannot be shaped as easily as ivory or other materials.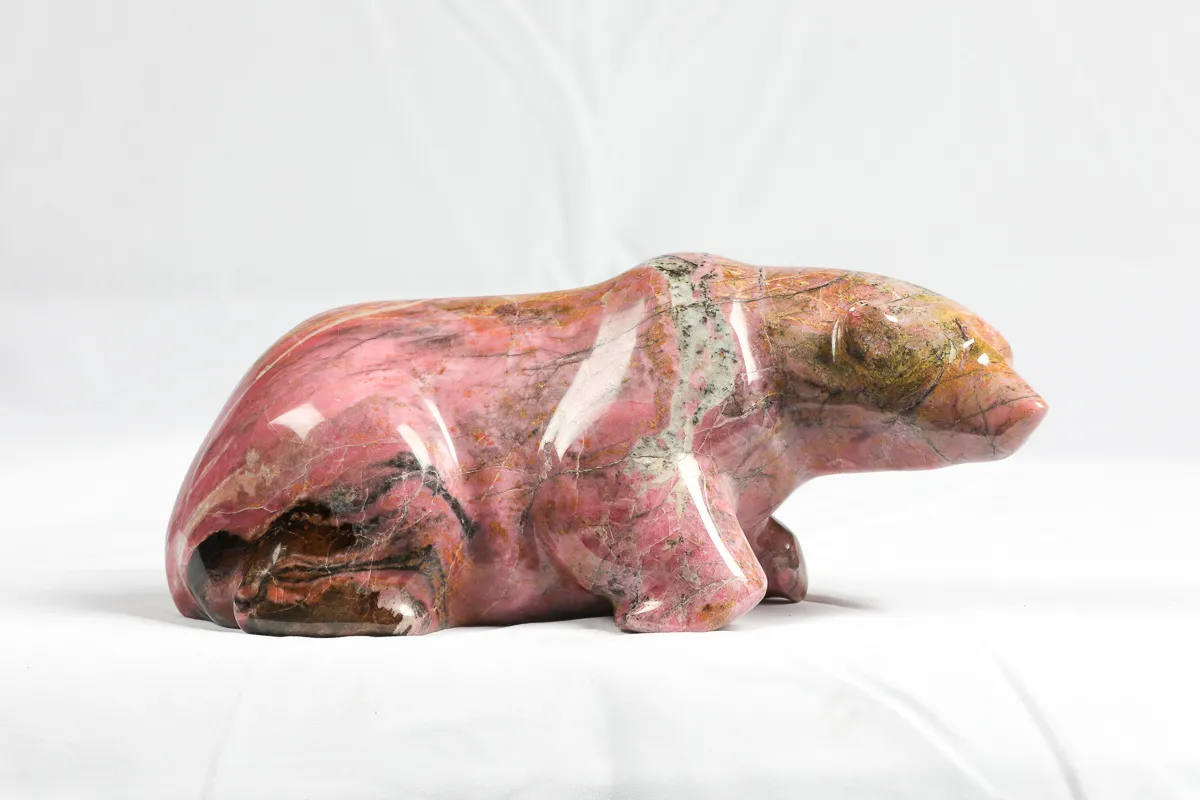 With shades that vary from dark red to pale pink, rhodonite is a manganese silicate that's composed from a variety of minerals including calcite, iron and magnesium. It's quite a popular gemstone among collectors and jewellery enthusiasts, due to the brilliant colour and relative rarity.
Rhodonite is often kept rounded and polished instead of being faceted, making it a great choice for making beads, carvings and other decorative objects. Believed by some to be associated with love, compassion and understanding, rhodonite can be a great source of spiritual healing. If you're looking to add some colour and spirituality to your life, this mineral can make the perfect addition to any setting.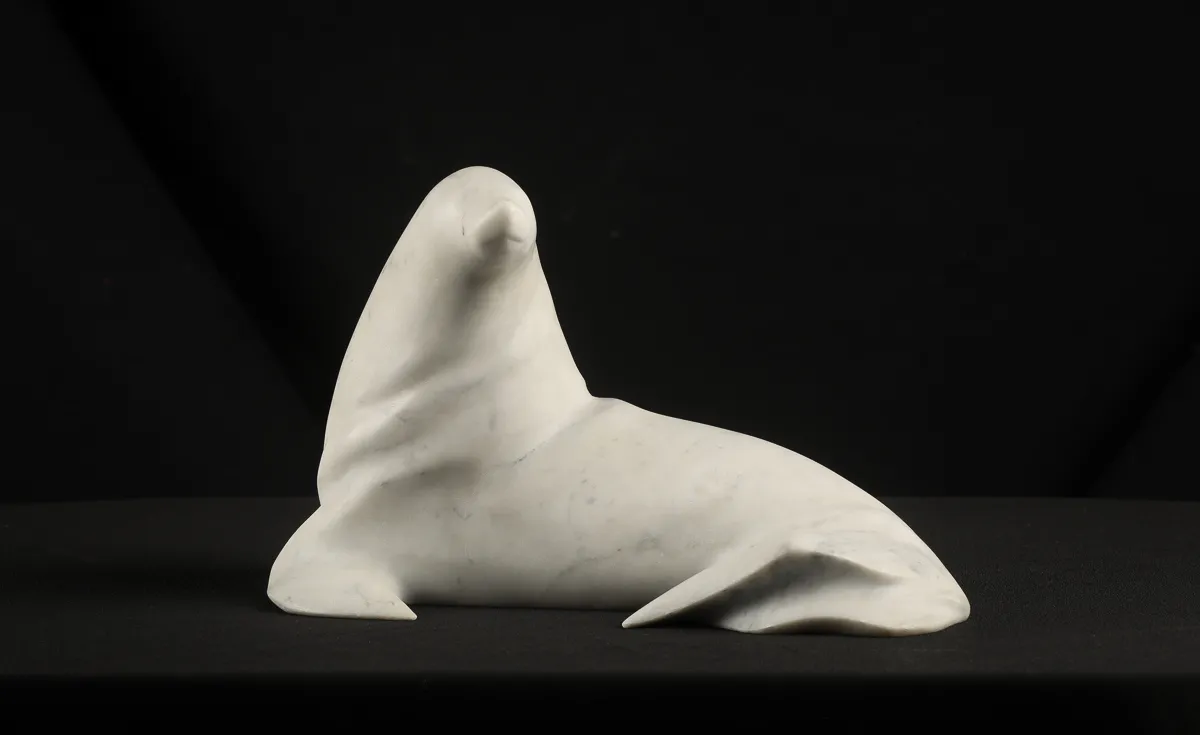 Marble has been a popular material for sculptures and carvings throughout history because of its durability and beauty. This metamorphic rock is formed when limestone is subjected to high pressure and heat, causing the minerals within the rock to recrystallize and form a denser, more compact material. The resulting stone is smooth and lustrous, with a variety of colors ranging from white to black and everything in between.
There aren't a ton of available David Wong marble sculptures, but the ones he did sculpt exude a timeless feeling of strength and durability. This includes the Marble Polar Bear and the Marble Seal, with both of these pieces capturing and reflecting the light in a way that adds a natural depth and dimension to the sculpture.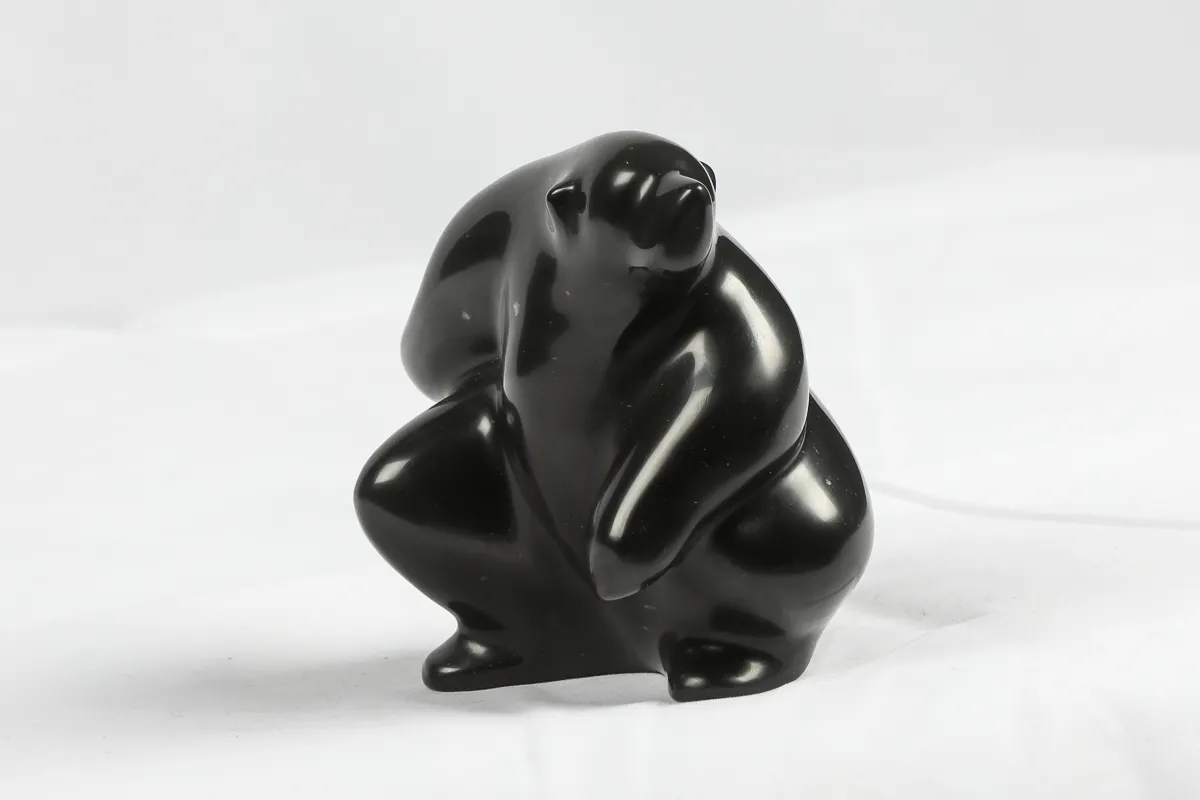 This naturally forming volcanic glass stone is found in deposits around volcanoes, where felsic lava has cooled rapidly. Its naturally black, glassy texture can sometimes have hints of red, and was traditionally used to make tools and weapons. Thought to bring feelings of safety, grounding, truth and healing, the dark and dreamy textures of obsidian made it the perfect material for sculptures, and a wonderful addition to your living space or office.
Although it's not as hard as jade, obsidian still requires a special set of tools to carve and polish into the beautiful sculptures you see. One of the common techniques is to use a saw and diamond cutting wheel, or a tile cutter with a diamond blade.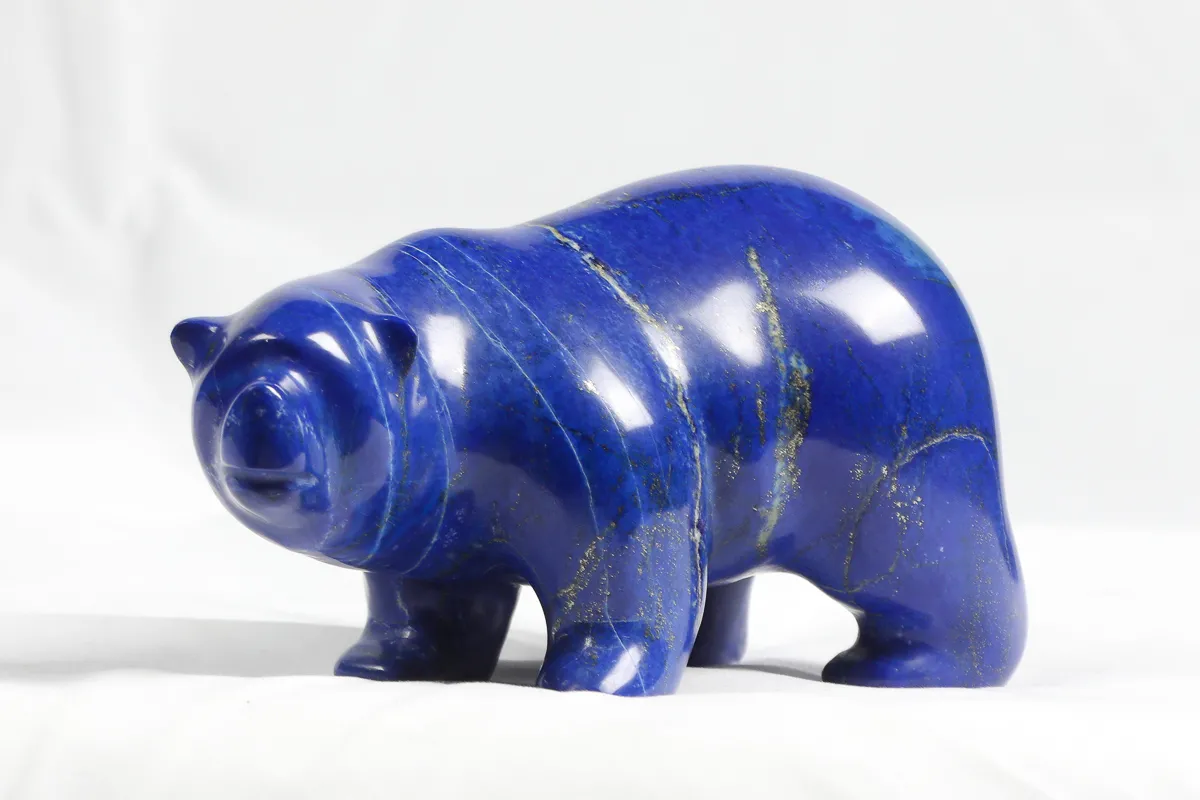 This deep blue gemstone has been prized for centuries for its unique colour and appearance. Almost celestial in its appearance, the royal blue stone is speckled with white calcite and sometimes gold pyrite, mimicking the appearance of stars. Considered by some to bring forth truth and wisdom, as well as peace and harmony.
Lapis lazuli is relatively easy to carve, which is partly why it has been such a prevalent part of various cultural artifacts for centuries. Many historians believe that what's referred to as sapphires in the Old Testament was actually lapis lazuli, as sapphires were not known before the Roman Empire.
One of the oldest materials used for sculptures, ivory has been used for ornamental carving since prehistoric times, becoming especially prevalent during the medieval era. Often called 'ivories,' ivory carvings can be carved manually or mechanically from animal teeth or tusks. Today the production of ivory carvings has been reduced, as elephants and other species which produce ivory have become endangered in the hunt for their tusks and teeth.
Many of David Wong's pieces incorporate the use of ancient mammoth tusk ivory to add detail to a jade piece. For example you'll find two ivory tusks on his Jade Walrus carving or as antlers on a moose. We also carry some of Wong's exclusively ivory carvings made from ancient mammoth tusk, such as the Mammoth Tusk Inuit Hunter, or the Mammoth Tusk Band of Mountain Goats.
Come & Visit Our
Calgary Art Studio
When you're looking for art that's on sale in Calgary, check out our gallery. We offer premium art pieces and prints that are perfect for experienced collectors and new collectors alike.
View our collection online, and if you're interested in purchasing one of our larger pieces, we welcome you to schedule an in-person appointment to view the piece.
We offer private one-on-one appointments so you can fully experience seeing our art in person.
Please use the link below to book your appointment today. We look forward to seeing you and helping you find the perfect piece to add to your art collection.