News & Articles
Latest EA Studios Blog Posts
Indian Group Of Seven Member Norval Morrisseau
Story Of The Indian Group Of Seven
In 1973, a group of Indigenous artists coined the Indian Group of Seven banded together to break down barriers between their communities, traditions and culture. Through their unique style of paintings, they gained recognition from galleries, politicians and even members of the monarch.
The Indian Group of Seven was comprised of Jackson Beardy (1944-1984), Eddy Cobiness (1933-1996), Alex Janvier (b. 1935), Norval Morrisseau (1932-2007), Carl Ray (1942-1978), Joe Sanchez (b. 1948) and Daphne Odjig (1919-2016). The six Canadian artists, along with one American, showcased their collaborations of traditional art in various galleries across Canada From the early 1970s until 1975 — with a final show at the Dominion Gallery in Montreal in 1975.
The group was founded with the desire to share traditional stories through brush strokes and canvases to open the door to their culture. They hoped that their paintings would break into the mainstream world of art and be recognized as such. Originally called the Professional National Indian Artists Incorporation (PNIAI), they were quickly nicknamed the Indian Group of Seven by a Winnipeg Free Press reporter, Gary Scherbain.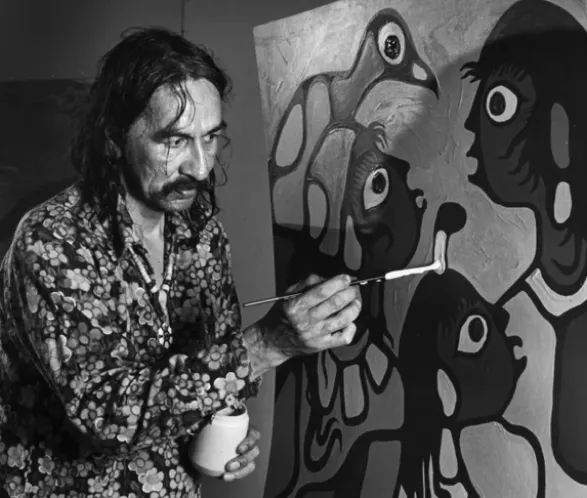 Indian Group Of Seven Versus The Original Group Of Seven
The reporter drew parallels between the Indigenous artists and the original Group of Seven artists from the early 20th Century. At the time, three members of the PNIAI were involved in a renowned exhibit being showcased at the Winnipeg Art Gallery titled Treaty Numbers 23, 287, 1171. Although very different in terms of artistic depiction, the visual inspiration for both Canadian groups came from the scenic landscapes, wildlife, history and essentially the spirit that surrounded their homeland.
They both introduced ways of composing art using new media. These new formats helped pave the way for future artists within each of their scopes. The three artists included in the exhibit were Daphne Odjig, Jackson Beardy and Alex Janvier. The exhibition helped catapult Indigenous art into the eyes of art enthusiasts across the world. The style of paintings were labelled Woodland Art and were categorized as legend and medicine paintings.
Woodland Art
Woodland Art is recognizable by its bright colours combined with thick black outlines that encompass Indigenous designs and abstract imagery. These captivating images depict legends and traditional stories from Elders and Knowledge Keepers.
Norval Morrisseau is considered the founder of Woodland Art. He is noted as the first Ojibway artist to create drawings from the stories and teachings of his Ontario community in the early 1960s. Historically, works of art produced by Indigenous artists were considered tribal art and not worthy of contemporary showcases. But, Morrisseau and the work of the Indian Group of Seven changed those views and became renowned across the world for their unique artistry.
In the early 2000s, the Indian Group of Seven was showcased in galleries across Canada, including the McMichael Canadian Art Collection, Kelowna Art Gallery, the Art Gallery of Alberta and the Art Gallery of Windsor. In 2016, the Museum of Aboriginal Peoples' Art & Artifacts at the Portage College's Lac La Biche campus became the permanent home for a number of the Indian Group of Seven's collections.
The Indian Group of Seven did not just focus on getting their own work recognized. They also focused on creating opportunities for Indigenous generations to come. As well, they wanted to leave a legacy. When the group first formed, they created a list of goals they wanted to accomplish while pursuing their collective careers. These included developing funding for young artists, exhibiting Indigenous art within well-known galleries, inspiring young artists by visiting their communities, and creating scholarships for up-and-coming artists through the sales of their own work.
The PNIAI members dispersed in 1975 to pursue their individual art careers. Although independent of the original group, they each continued their journey through various avenues within the world of art.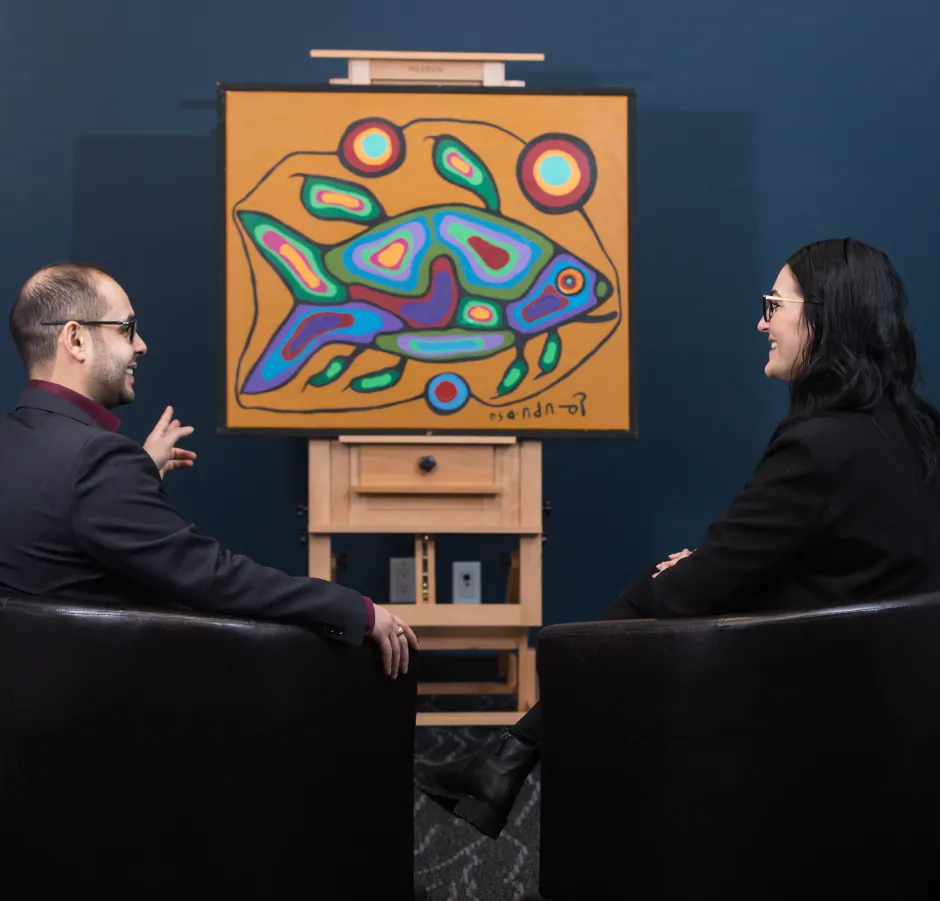 Indian Group Of Seven Members: Where Are They Now?
Jackson Beardy continued creating paintings of traditional Indigenous stories but used animal skins and birch bark as the backdrop instead of canvas. He also shared his knowledge with students and became the senior art advisor for Indigenous Relations and Northern Affairs Canada.
Daphne Odjig went on to own the first only Indigenous art gallery — Odjig Indian Prints of Canada. She was also dressed with many awards of recognition for her lifetime of contributions to Indigenous art. She also received the Xpression Award from the National Film Board of Canada to recognize her work toward cultural diversity.
Carl Ray continued creating his art which was part of many exhibits across Canada, including the Royal Ontario Museum and the Art Gallery of Ontario.
Norval Morrisseau, called by many the "Picasso of the North," continued to teach Woodland art to future generations. Morrisseau also created a few book covers for other artists and was recognized by the Art Gallery of Ontario. As well, his contributions to Canadian cultural diversity have been recognized by many. For this reason, he is also the namesake of several schools across the country that promote the same lifestyle.
Eddy Cobiness continued painting throughout his life, and it is believed some of his work fills the halls at Buckingham Palace.
Joe Sanchez has continued his work with the Indian Group of Seven to be a spokesman. He has attended many gallery openings and showcases on behalf of the Indian Group of Seven. He also continued to have his own exhibits or original work.
Alex Janvier continued to create abstract art throughout the decades and has been exhibited across the country. In 2016, he recreated a large mosaic of his own work titled Tsa Tsa Ke K'e (Iron Foot Place), which was installed at the new Rogers Place building in Edmonton, Alberta.
Want to add an authentic Norval Morrisseau to your art collection? Shop our collection of Morrisseau works on our website today.